Glisan Commons & Gilman Court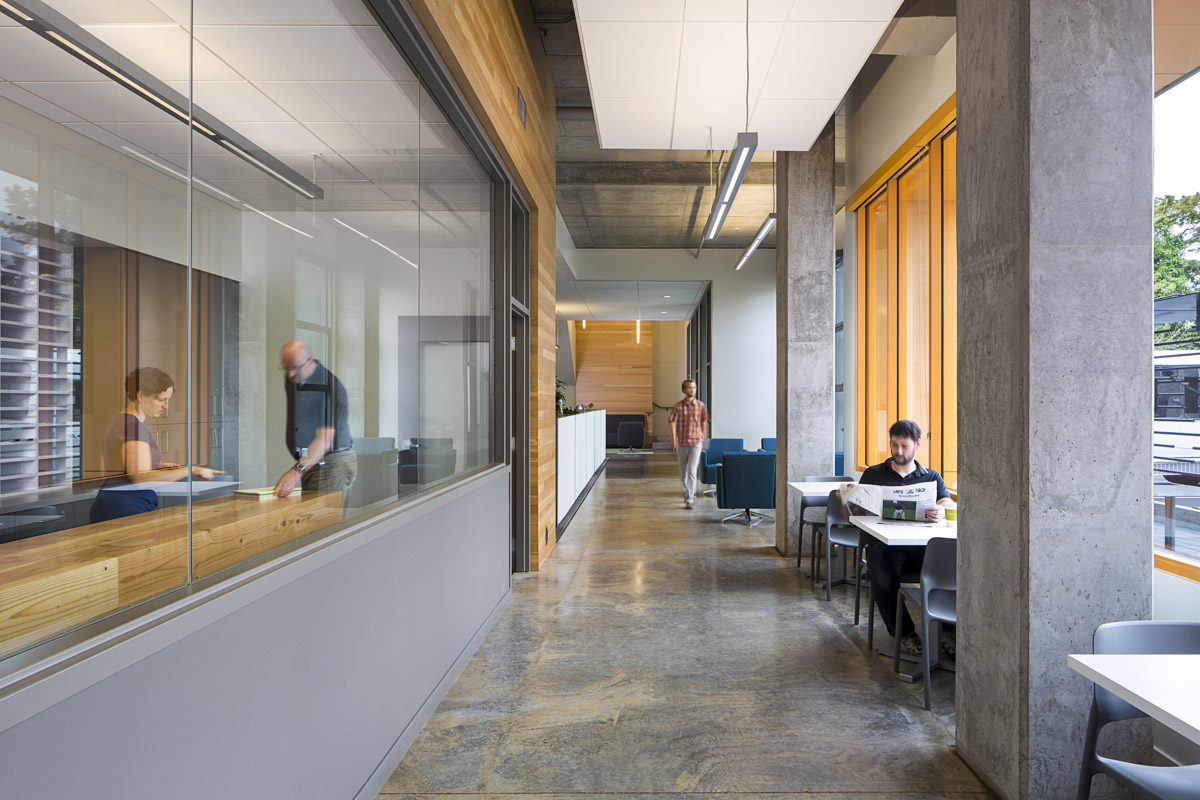 DEVELOPMENT SCOPE
New construction of a two-phase development containing a ground-floor transit access facility and 127 affordable homes for working families and seniors.
PROJECT OVERVIEW
A partnership of three nonprofit sponsors, Glisan Commons and Gilman Court make great use of a transit-oriented site in East Portland's Gateway district. Steps from the regional Gateway Transit Center, this two-phase development combines a ground-floor operations center for transit access provider Ride Connection with 127 units of affordable rental housing serving two transit dependent populations, low-income seniors and working families.
Historically a low-density suburb, the Gateway district is positioned by local and regional planning frameworks as a center for future transit-oriented growth. The Glisan Commons–Gilman Court project advances the Gateway growth vision, bringing high-density housing and a community facility that employs 48 people to a previously vacant site. With its compatible mix of uses and sensitive design, Glisan-Gilman sets a positive tone for Gateway's future development and creates opportunities for low-income residents to share the benefits.
Creative Solutions
Ride Connection was working with HDC to identify a site for its new operations center when the City of Portland issued a request for proposals to develop a vacant 1.5-acre parcel adjacent the Gateway Transit Center. HDC helped Ride Connection partner with nonprofit housing providers Human Solutions and REACH Community Development to craft a successful proposal for a mixed-use project combining Ride Connection's facility with affordable housing for low-income seniors and working families.
By sharing development costs and site amenities with Human Solutions and REACH, Ride Connection built its facility at half the estimated cost of a stand-alone facility. The project's collaborative operating structure created ongoing opportunities for the three partners to improve outcomes at reduced cost. As master developer and project manager, HDC provided creative strategies and project management to assure the success of this innovative collaboration.
SPONSORS
Ride Connection, Human Solutions, and REACH Community Development
LOCATION
NE 99th Ave and Glisan St, Portland
HDC ROLE
Master development, financial structuring, and construction management
DEVELOPMENT PARTNERS
→ Holst Architecture
→ Carleton Hart Architecture
→ R&H Colas Construction
→ Oregon Housing and Community Services
→ City of Portland
→ Oregon Department of Transportation
→ NOAH (Network for Oregon Affordable Housing)
FUNDING SOURCES
→ Low-income-housing tax credit equity (9%)
→ Tax increment bonds
→ HOME funds
→ Other public grants
SQUARE FEET
Residential: 115,300
Common Facility: 15,432
Total: 130,732
COST
Total Development: $36.6 million
TIMELINE
Fall 2010 to Summer 2015